FAMILY HOTEL in Wagrain
All-inclusive family holidays in the Salzburg mountains
A holiday at our family- and child-friendly Hotel Wagrainerhof means carefree family time with an array of all-inclusive services as well as child care during the summer months. With specially created kids' menus, our restaurant also promises a true treat for everyone's taste buds. A big playground with slide, swing, sand box, play tent and much more invites the youngsters to let out all of their youthful energy. In bad weather, your children will love our playrooms with equipment that includes table football and a pool table. Also the region surrounding Hotel Wagrainerhof has lots of exciting adventures in store.
So that their parents can also treat themselves to a bit of a timeout, we offer childcare for youngsters ages 5 and up. From Monday to Friday, our trained staff provides a beautifully designed kids' program for everyone to enjoy. We are also happy to look after English-speaking children.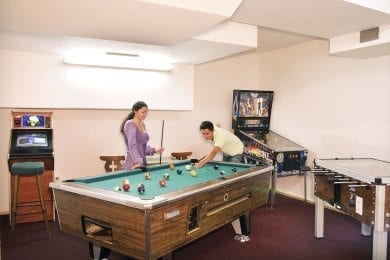 YOUR FAMILY HIGHLIGHTS AT OUR CHILD-FRIENDLY HOTEL
Special kids' menus in our restaurant
Big playground with several slides, swings, a sand box, play tent, trampoline, climbing frame,…
Separate Internet Corner
Playroom with art tables, rocking chairs, balls,…
For our teens: Games room with table football, pool table, pinball, games machine,…
children cinema
FAMILY HOLIDAYS in summer
Games, hiking, swimming and more in Wagrain
Experience an unforgettable summer holiday in the region which surrounds our family hotel in Wagrain in Salzburger Land. Numerous attractions are just waiting to be discovered by you. Together with your little adventurers, visit Wagraini's Grafenberg or discover Ghost Mountain in St. Johann – Alpendorf (ca. 12 km from the hotel). We also recommend Flori's Adventure Path in Flachau (ca. 11 km) and the Rucki-Zucki Gaudi-Alm in Grossarl (ca. 25 km). You can also look forward to spending great holiday moments at Wasserwelt Wagrain (10 minutes' walk from the hotel) – and with your Guest Card, entrance is free!
World of nature & mountain adventures for families
Ride the Grafenberg gondola lift up to 1700 meters above sea level
Huts serving drinks and snacks
The "Busy Bee" theme path, KinderAlm, Grafenbergsee
Fun play areas such as a rope pyramid, low-ropes course, Swing Forest, footbridge, barefoot path ,…
Amusement- and adventure park with talking Ghost Gate, air swings, birds' nests, dragon to climb on, Ghost Tower, water games, Ghost Lake, pine-cone shooting stands
"Imps' Path" & other easy-to-walk hiking trails
Big adventure playground in Alpendorf, with fun-court, giant trampoline, mini gokart track. disco boats
Tree theme path & panorama path
FAMILY SKIING HOLIDAYS FOR BIG & SMALL
Fairy-tale winter magic for your loved-ones
Wagrain is a true insider tip when it comes to wintertime family holidays in Salzburger Land. The family-friendly pistes in the Ski amadé ski alliance guarantee exciting skiing enjoyment. In Wagraini's Winter World, your kids will turn into real explorers. The "Rote 8er" gondola carries you straight up to this world of adventure, located next to the mid-station. Awaiting you there are a magic carpet, children's lifts, the Kids' Snowpark, a dwarf house, and many other enthralling adventures. Whenever it's stormy or snowing heavily, Wasserwelt Wagrain aquatic center invites everyone to come swim, splash and play. And with your Guest Card, entrance is absolutely free!